Dear Karma Tribe,
This past weekend at Envision Festival was absolutely epic!
The atmosphere was electric as 7,000+ people from all around the world gathered in the jungle near Uvita to celebrate life, nature, art and freedom of expression.
We set up a Karma Tribe stand in a tent neighborhood and refreshed hundreds of people with water and fruit, and made countless new meaningful friendships with all kinds of inspiring people. We told them about the alternative "pay-it-forward" economy we are trying to set up, where people share what they have extra of, or a service in something they love to do, and kindness is the only currency.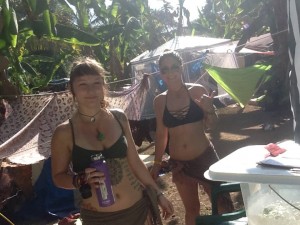 We had the privilege of participating a wonderful talk on alternative economic systems with the brilliant Tara Ruttenberg from Tarantula Surf, which went beautifully. This was our first ever public speaking opportunity… Woohoo!
Over 95% of the people we talked to eagerly signed up (350 people from 23 countries!). We were able to effectively double our early registrants and we now have over 600 Original Tribe Members.
We will be announcing a launch date soon!
Thanks for your support!!!
If you want to help us grow, please tell one kind-hearted friend about our project and encourage them to pre-register at Karmatribe.com.
Much love and good vibes to all,
Dave,
Founder,
Karma Tribe