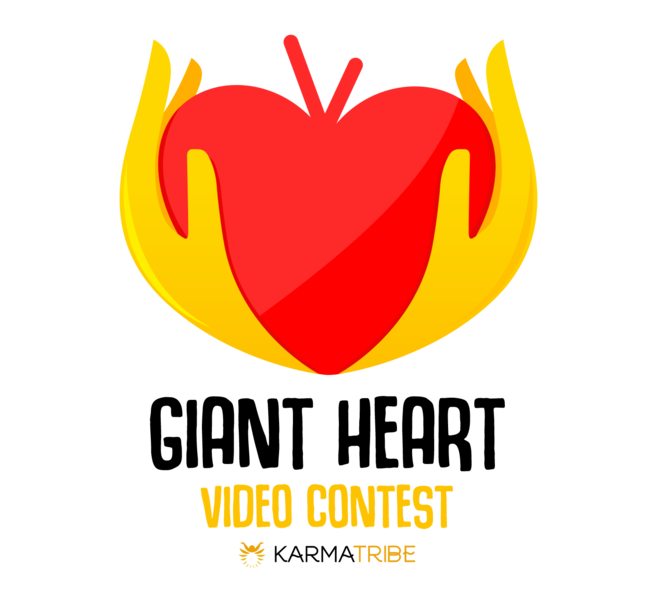 Congratulations to Los Amigos del Río Torres
Winners of the Giant Heart Video Contest!
🏆
Giant Heart Contest Winner | Los Rios No Se Devuelven

Congratulations to Amigos del Río Torres, from San José, Costa Rica,
"Los Rios No Se Devuelven," Winner of the 2017 Giant Heart Video Contest ! 🏆

🎉😍👏🏻 "Most inspires us to to take action to make this world a better place."

As voted by our inspiring judges: Emily Gussoni, Marianne Hütt, Stephen Brooks, Mariola Fumero Adams and Diego Delfino.

Thank you to everyone who participated. <3 We will be releasing many of the videos in the coming weeks.

Learn more about this contest at karmatribe.com/giant-heart.

Thank you so much for your support:
EkoJunto De Costa Rica: Building houses from non-recyclable plastics.
Selina Jaco: Re-imagining the modern hostel by converging co-work, co-play, and social impact.
Vacasa Costa Rica: Vacation rentals in Costa Rica made easy.
Ace Your Video: A one-stop shop for all your video coaching needs.
Jerry Banfield: Teacher of Facebook/Youtube Marketing, Google Adwords, and cryptocurrencies.

It's time to start helping each other. This was organized by Karma Tribe, a global network of people willing to help each other for free. On our website, you can offer and request free services. Visit karmatribe.com to learn more.

Posted by Karma Tribe on Wednesday, July 19, 2017
'Los Rios No Se Devuelven' will be promoted to 1 Million views over the next two months.
How does it work?
Send us a video that inspires people to make this world a better place. The winning video will be promoted to one million views. Contest open 06/01/17 - 07/10/17.
Download Press Release (English / Español)
Rules
Submit videos to video@karmatribe.com
Videos must be less than 2 minutes in length.
The video must be in English, Spanish or in Portuguese* (with English subtitles).
You must use your own footage, (IE: no open-source or Creative Commons footage).
You must own the rights to any music or sounds you include.
The video must be submitted between June 1, 2017, and Midnight on Monday, July 10th, 2017, Pacific Standard Time (UTC -8).
The preferred method for submitting the video is via Google Drive, a Dropbox link or a Wetransfer link, so that we can download the video.
The video must not contain any violence, nudity or any material that would prevent us from promoting it on Facebook.
By submitting a video, you are giving Karma Tribe the rights to promote the video at its discretion.
Although the winning video will be promoted to a million views, other submitted videos may be promoted too.
This promotion is in no way sponsored, endorsed or administered by, or associated with Facebook.
Winner Selection Criteria
The winning video will be the one that most inspires us to take action to make this world a better place, as decided by our panel of judges.
Other criteria that will be considered:
How easy is the message to understand?
How touching is the video?
Does the video start off in an engaging way?
Does the video have a universal message that applies to most people around the world?
The top five videos will be aired, and the winner of the contest will be announced on Sunday July 16th, on a Facebook Live Stream on the Karma Tribe page.
Prize Details
The winning video will be posted on the Karma Tribe Facebook page within a week after the winner is announced, and then it will be shared and promoted to reach one million views globally, by October 20th 2017.
The Karma Tribe team will create subtitles for the winning video.
If you have any questions about any of these rules, please email dave@karmatribe.com.
Judges
Examples
Can I Help Anyone With Anything?
Twenty-Two Acts of Kindness
Paying It Forward
Ekojunto uses innovative technology to build houses from plastics that cannot be typically recycled. The houses are low cost, comfortable and have amazing thermal properties. Winners of the global Chivas Regal social impact entrepreneurship competition, Ekojunto's houses are now available in both Costa Rica and Colombia.
Selina is a chain of hostels in Central America that wants to do things differently: they want to connect with the locals, support local projects, generate positive environmental impact, and give travelers an unforgettable and unique experience. Selina is re-imagining the modern day hostel by converging co-work and co-play spaces for digital nomads, and we can't recommend them highly enough,
A one stop shop for your video needs: videography, coaching, VIP days and marketing for successful entrepreneurs. Colleen is a brilliant, award-winning director and actress, and she is the perfect person to work with if you want to bring your videos to the next level.
Vacation rentals in Costa Rica made easy! If you are planning on visiting Costa Rica and are thinking of renting a house, we whole-heartedly recommend Vacasa, a very reliable service run by great people.
An expert in Facebook Marketing, Google Adwords, Youtube Marketing, cryptocurrencies, and much more, Jerry can teach you everything you need to know to have a successful on-line business. Jerry has been mentoring Dave, the founder of Karma Tribe, and his strategic insights are the reason why Karma Tribe has been so successful on social media with a small budget.